Michael Mendez | Director of Sales
As the Director of Sales, Mike Mendez oversees the daily operations of the Sales Department and works hand in hand with multiple departments at the Shoshone-Bannock Casino Hotel.  As a Shoshone-Bannock Tribal Member, he has the privilege to witness the economic impact the business has, first-hand.
"When our team exceeds the expectation of our guests, we have achieved what we have set out to do.  Creating that memorable experience for all our guests."
Mike is currently pursuing his degree in Hospitality Management at Idaho State University.  In his spare time, you can catch him on the softball field, golf course, or on stage performing standup comedy.  Mike has four wonderful children with his amazing wife of 13 years, Rosie.
Tyson Shay | Sales Executive
Making every client feel welcome at the Shoshone-Bannock Casino Hotel is a top priority for Sales Executive, Tyson Shay.
As a Shoshone-Bannock Tribal Member, upholding his culture is also a top priority for Tyson.  Within the Shoshone-Bannock culture, hospitality and giving are strong cultural traits, handed down from his ancestors. Historically, nobody went cold or hungry and everyone helped where needed.  This is a significant part of the culture that Tyson ensures is practiced through hospitality.
Tyson began working with the Shoshone-Bannock Casino Hotel in 2012 and oversees the Tribal Market segment.  He has an Associates of Science in Business from Idaho State University and will be receiving his Bachelor of Business Administration in 2021.  He has two sons, Trevyn 14, and DeReese 20.
Michelle Flores | Sales Executive
Ensuring the satisfaction of each guest as they arrive at the Shoshone-Bannock Casino Hotel has become the passion of Michelle Flores, Sales Executive. As the contact for social, military, education, religious and fraternal groups, Michelle has made the effort to learn the day-to-day operations, in other departments, to serve the many needs of her clients.
Given her positive experience at the Shoshone-Bannock Casino Hotel since 2015, she has looked to continue her career in the Hospitality Industry. Michelle is currently attending Idaho State University, pursuing a degree in Hospitality Management.
In her spare time, Michelle enjoys spending time with her family.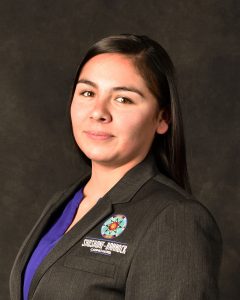 Jessica Broncho | Sales Executive
Overseeing the many events and occasions the Shoshone-Bannock Casino Hotel plans, Jessica Broncho is the Sales Executive point person in the Sales Department. Managing the Internal Market Segment, Jessica enjoys the opportunity to meet different people. She loves to the see the expectations, of an event, come true.
As an enrolled Shoshone-Bannock Tribal Member, Jessica has been with the Shoshone-Bannock Casino Hotel since 2013.
She loves being outdoors, riding horse, fishing, hunting, and helping with cows. She resides on the Fort Hall Indian Reservation and has two beautiful daughters, ages five and three.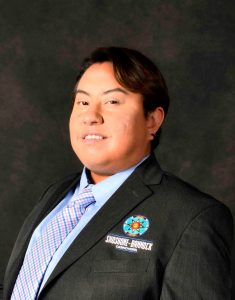 Natalie Smith | Sales Executive
Since the hotel grand opening in 2012, Sales Executive Natalie Smith, has gained over 7 years of experience working at the Shoshone Bannock Casino Hotel. She has found an appreciation for the hospitality industry in Southeastern Idaho.
As a member of the Fort Peck Assiniboine Sioux Tribes of Montana and someone who has lived most of her life in Pocatello, Natalie appreciates being able to work for and support local tribal businesses while also helping to contribute to the regional Idaho economies.
Natalie works mainly with Corporate and Association clientele.  It is her number one goal to provide each client with the best possible experience while at the Shoshone Bannock Casino Hotel, no matter the type of event.  Customer service and hospitality are Natalie's greatest passions, and she hopes to continue sharing those passions with each guest she comes across.
Natalie is currently a student at Idaho State University working towards furthering their career within the hospitality and tourism industry.